Background of this project
Rimboe Sauzen saw spectacular growth the last few years. Rimboe Sauzen saw the demand of their sauces grow substantially. In order to meet this demand, Rimboe Sauzen had to increase its production capacity. An automatic system to produce several types of sauces was necessary.
Execution of the project
We sat together with Rimboe Sauzen to see what their exact wishes were concering the production process. This required a fully automatic filling system which adheres to the quality standards of the Dutch food industry. Another challenge was the presence of other production lines on the floor; this meant that there was limited working space.
Our engineering department came up with a solution for the space issue by designing the line in an U-shape. This way, the bucket line could be fitted onto the floor without having to move other production lines.
The line itself consists of a bucket destacker, step-tracks, a filling and weighing unit, an automatic lid placement system, a lid roller, a coding printer and a buffer conveyor.
The final result
Rimboe Sauzen now has a machine line which significantly increases its production capacity. This way, they can keep up with the growing demand of peanut sauce and other sauces.
What Wim van der Slot has to say
We're very happy with this machine. Our wish was a machine line for different sizes of buckets without this being an issue for operational reliability. The result is good and this is thanks to the technical know-how of Van Rijn on this area. And if a problem presents itself, then they are ready on the same day for technical support, which is necessary since we operate without our own technical department.
(Translated from Dutch)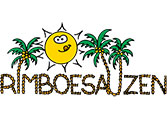 Rimboe sauzen
For authentic sauces with their own flavour, you need Rimboe Sauzen. The Dutch sauce company with Asian roots. The name Rimboe is Malay for jungle. This explains the sun and the waving palm trees on the labels.
Advies nodig of vragen?