Flower industry
Transportation
Hamiplant
The background of this project
Hamiplant was moving to a new building. The installation they were using worked properly because it is made of stainless steel. As a result, Hamiplant wanted to continue using this installation. Because Van Rijn had also supplied this installation, Van Rijn was asked if it could move this installation and expand the system.
The execution of the project
Together with Hamiplant, it was discussed where and when the installation should be ready in the new building. In addition, Hamiplant wanted to expand the installation, because they had enough space and turnover for a larger stock capacity. This has been discussed and an agreement has been reached on the following extensions:
The magazine was moved upstairs and was extended, making the conveyors longer here;
Since the warehouse is now upstairs for more space, conveyors had to be installed to transport the products downstairs;
Due to the larger capacity, an extra buffer circuit has been built into the installation;
An attachment conveyor is installed at the back of the line where products can still be placed manually if they are not available above.
These extensions have been designed by our Engineering department to be connected to the existing installation. This already consisted of warehouse conveyors, a buffer circulation system and production stations with scanners. In this way, a plan was devised to move, install and commission a complete installation on the right date.
The final result
Hamiplant now has two floors to work on, making it possible to keep a larger stock and work more efficiently. The transport system has facilitated that both floors are connected to each other. As a result, the production capacity is greater than it was before the move.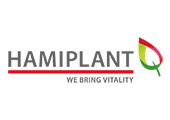 Hamiplant
Hamiplant specializes in the supply of indoor and garden plants to wholesalers, garden centers, DIY stores and supermarkets in Europe. Hamiplant is located in Westland, the largest production area for flowers and plants in Europe.
Do you have a question or do you need advice?