Flower industry
Transportation
C.J. Vianen
C.J. Vianan Flowerexport is a key player in the market. The range of cut flowers, foliage and related products is very diverse.
Background of this project
Every day thousands of fresh flowers and plants are processed at C.J. Vianen. In order to process the vast amount of flowers and plants that pass through every day, Vianen needed a new transport system with an automatic distribution function.
Execution of the project
Flowers and plants in various types and sizes of flower containers, boxes and trays are fed onto the transport and distributed via a scanner based conveyor system to the work stations and roll container stacking areas.
To increase reliability, we have installed the latest camera based scanning system with four cameras reading the barcodes from all directions. Advanced software processes the barcodes to control the whole process.
The entire transport line features a range of specialized equipment:
A pressure less buffer system to guide the various packaging units around the system.
Various ergonomic for packing stations.
A long sorter with many compact and safe arms to direct the many different types of packaging to the right exits for the various roll container stacking areas.
A turning and water-disposal system to collect the flower containers and return them empty for stacking in carts.
The result
C.J. Vianen now has a system that can effectively process a large amount of flowers and plants. Even products that are difficult to scan can be efficiently processed now. This way, C.J. Vianen can continue their growth in the industry.
What C.J. Vianen has to say about Van Rijn
We started working with Van Rijn because they have a smart way to create a compact system, which meant that we could make the changes we wanted and increase our efficiency. Van Rijn's experience in the flower sector has resulted in a good system with reliable machines that require little maintenance. The advanced camera system enables us to process even the hard to read products properly.
– Robbert Judels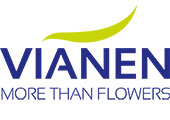 C.J. Vianen
Vianen Flowers is niet zomaar een bloemengroothandel of bloemenexportbedrijf. Ze zijn partner van honderden bloemenhandelaren over de hele wereld. Ze adviseren, delen trends en verspreiden producten over heel de wereld.
Need advice or do you have a question?