Food industry
Transportation
Vivera
The background of this project
In 2022, Vivera has the goal of tripling turnover. This makes it necessary to optimize the current machine lines or to add new ones. Vivera has opted for expansion, with a transport system with a lift and a hygienic platform for the supply of semi-finished products and the return of empty crates.
The execution of the project
Van Rijn sat down with Vivera to talk about what was necessary to connect the new machines, which had already been purchased, to a hygienic platform and how to optimize transport.
This showed that two conveyor belts were needed – one for the supply of full crates with semi-finished products to the machine line, and one for the removal of empty crates. The best solution for this was to place two conveyor belts on top of each other. In this way, the conveyor line takes up as little space as possible.
There is also a difference in height between different production areas. As a result, the transport system consists of a part on the lower floor and a part on the higher floor. To connect these with each other, a vertical conveyor has been installed. A staircase has also been installed next to the conveyor so that technicians and operators can easily reach the entire installation.
In the upper production area, High Care, the material from the full crates is placed on the vibrating chute by hand. The vibrating chute and conveyor are designed in such a way that the operator can work in an ergonomically sound manner because he can take a few steps during the process, in contrast to when he had to do everything from a stationary position. A mobile platform has also been placed here so that despite the height it can be cleaned properly.
The hygienic platform is designed in such a way that:
The gutters can be folded down so that they can be cleaned regularly;
The drain pipes are removable so that they can also be cleaned manually;
The whole is hygienically welded after installation;
A no-too steep staircase has been used.
The final result
Vivera has received a transport system with which the new machine line can be put into use. Despite the challenges of elevation and hygiene requirements, Vivera now has the resources to increasewith production even further from around the world and meet the demand for its produce.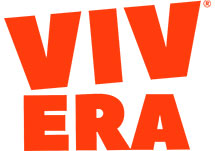 Vivera
Vivera is a Dutch brand of meat substitutes that are largely based on soybeans. The brand was introduced in 1990 at various Dutch supermarkets. Since 2010 it can also be found in the food service market, so that Vivera products are available at a large number of Dutch catering companies and institutional companies.
Need advice or do you have questions?