Flower industry
Transportation
Fleurada
The background of this project
Fleurada felt the need to expand production capacity. For this they wanted a brand new system for processing flowers. This system should make it possible to transport the crates and casks in a large hall to the correct workplaces, and to return the empty crates and casks. The filled crates had to go to the correct exit in order to be transported.
The execution of the project
Together with Fleurada, we looked at how the work process worked. This showed that they work with different workplaces, where employees put together the bouquets in crates. The best way to facilitate this was to build a system where empty crates are transported to the correct workplace, after which they can be filled. The filled crates must then be automatically transported to the final station for transport.
Our engineering started to design a system for this task. To realize this, a circular transport system has been drawn up. Immediately outside this circle, workplaces are set up on roller conveyors. As a result, the crates can easily be slid from the transport roller conveyor to the workplace to be filled. When the crate is filled, the employee can simply push it back onto the conveyor belt.
The full crates are then automatically provided with a sticker by a labeling machine. These stickers ensure that the filled crates can be scanned, so that they are automatically brought to the exit point.
In addition, a special discharge system for empty kegs has been built in. The empty flower barrels can also be placed on the conveyor and transported to a special conveyor. This is a roller conveyor with a drip tray, where the water in the kegs is collected and pumped away to the sewer. As a result, cleaning up is quick and the workplace is not flooded. The drip tray is equipped with a strainer to collect waste, so that only water enters the sewer and the pump is not clogged.
Furthermore, the system is equipped with a large control panel. Things like the speed can be adjusted here. There is also a fault log for the technicians to be able to solve problems more quickly in the future, even from a distance. In addition, the power consumption per motor is also visible, in order to work as efficiently as possible.
Finally, the system was fully tested, assembled and commissioned on site by Van Rijn.
The final result
Fleurada has a processing system that allows it to efficiently process a huge amount of flowers into beautiful bouquets. The round system also makes it easy to keep an overview in the hall and at the workplaces, making it easy to control the process. The end result is an efficient and future-proof working environment.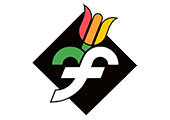 Fleurada
Fleurada is a dynamic import and export company in flowers, plants and accessories, with its own wholesalers in the Netherlands and Germany.
Do you have a question or do you need advice?