Bucket line
Chemical industry
Hermadix
Background of this project
Hermadix had decades of experience producing special coatings in their factory in Aalsmeer. The demand for this coating is increasing every year. Hermadix therefore wanted to increase its  production capacity, without requiring more manhours from its operators. This led to the demand for an automated production line.
Execution of the project
Together with Hermadix, we looked what wishes and requirements Hermadix had for their production process. The following important points came forward:
Increasing the production capacity;
Fitting for the current process;
Physically relieving operators;
Increasing efficiency
A fully automatic bucket line had been designed and installed. This includes a bucket denester, a step track transportation system, a double-barreled filling system for fast and accurate filling, a weighing system, a lid placement system and lid roller, and a buffer zone. The buffer zone is installed with a pneumatic lifting system. This way the operator doesn't have to carry the heavy buckets.
Furthermore, Van Rijn designed an IBC-tilting system with springs. By angling the IBC, all the produce can be extracted. This system is equipped with two screw pumps and the necessary pipe systems.
The final result
The bucket line and IBC tilting system with pumps made sure Hermadix can meet the ever growing demand for coatings they produce. It also freed up precious man hours that can be used elsewhere in the company now. It also made the filling process less physically intense for the operator.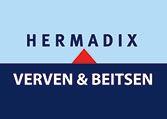 Hermadix
Perfect quality. Durable, responsible products without a strong paint odour. User friendly. Dries fast and guarantees years of quality. That is the promise of Hermadix.
Do you have a question or do you want advice?