Food industry
Transportation
Klaas Puul
The background of this project
Klaas Puul was busy expanding production capacity in its factory in Volendam-Edam. New shrimp production processes required additional conveyor belts. These conveyor belts had to transport the product upwards from a comfortable lifting height, as well as being easy to clean thoroughly and adhere to the high quality standards of the Dutch fish processing industry.
The execution of the project
Klaas Puul and Machinefabriek van Rijn sat down together to see what the wishes and requirements were for the transport of shrimps. Tese talks indicated that five hygienic PU conveyors with a cistern were the best match for the production process.
The conveyors have a cistern at the bottom into which the semi-finished product can easily be offloaded. As a result, the operator is physically burdened as little as possible. The semi-finished product is then transported upwards at an angle via the hygienic belts. From here they enter the next step of the production process.
The belts are made of Volta PU belts, which are very easy to clean intensively. The blue color makes it easy to see product residues. The open construction ensures that there are a minimal number of (small) holes and niches, so there is no possibility for residue to build up in places that are difficult to clean.
The final result
The transport system has enabled Klaas Puul to expand its shrimp production. The very high hygiene standards of the fishing industry have also been met. This will allow Klaas Puul to move forward with her shrimp production in the coming years.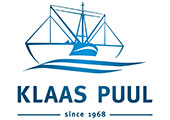 Klaas Puul
For decades already, Klaas Puul BV has been one of the leading producers of fresh fish products in Europe. From the catch to delivery to the customer, Klaas Puul manages the entire production and processing procedure.
Need advice or do you have a question?