Our dosing valves makes it possible to accurately and safely fill your produce. Our dosing valves are suited for a wide range of products, including food.
Dosing valves for an optimal fill process
Van Rijn offers several solutions for your product filling needs. The goal of the dosing valve is to safely and accurately fill your liquid products. The goal of our design is to optimize your fill process. This could also mean reducing the required service, which increases productivity. The attention to the design and the materials used in the machine makes it applicable in both food- and non-food industries.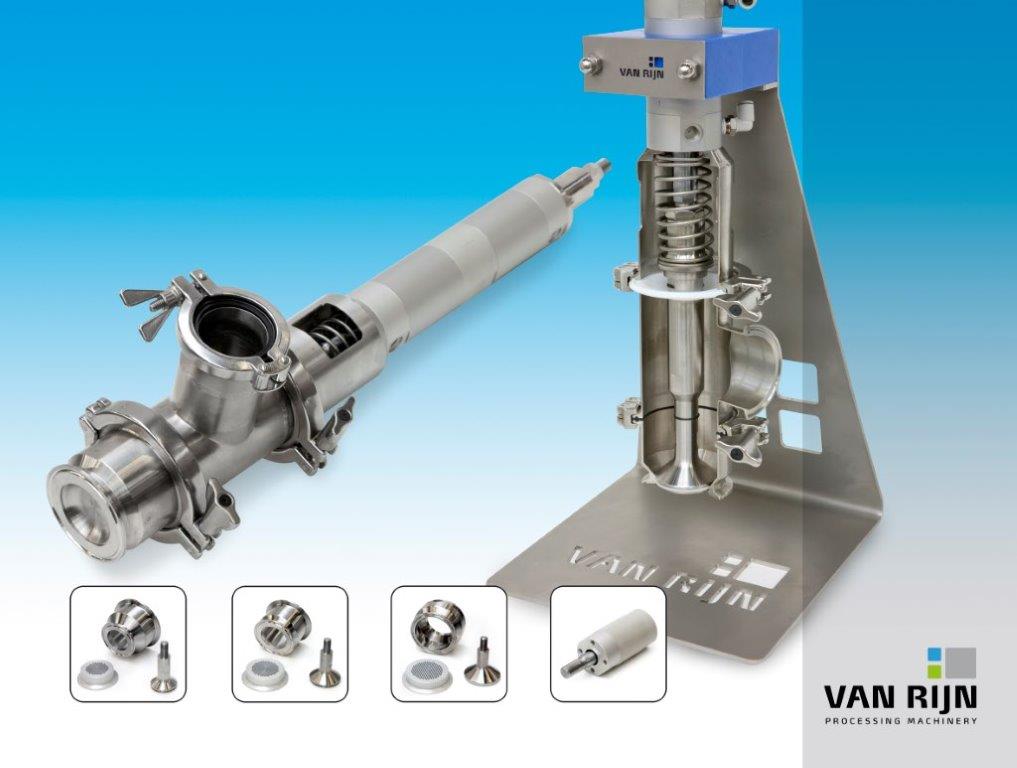 A dosing valve tailored to your wishes
The availability of several customization options make the dosing valve broadly applicable. These incluse several dosing diameters, adjusted to bigger or smaller package sizes. There are also several options to reduce spillage, or specific options for jerrycans.
The technical expertise of Van Rijn
The membrane principle in the dosing valve makes makes fast-wearing seal rings a thing of the past. These fast-wearing rings are replaced by a flexible PTFE membrane. This material is not only very resistant against chemicals, but also easy to clean.
The dosing valve is powered by a pneumatic cilinder which is outfitted with a small-dose system for optimal accuracy during the filling process. This small-dose system can be adjusted by hand, giving an optimal dosage for every product. A pressure spring secures the closing of the dosing valve in case the air pressure is lost, ensuring it won't leak.
The expertise and complete solutions offered by Van Rijn makes it possible to find your solution at one adress. If it's just one machine or an entire production line: Van Rijn makes it possible.
Product attributes
Doses and fills extremely accurate
Built-in weighing system
Stainless steel construction suitable for all environments
More efficiënt and acccurate than hand-filling
Need advice or do you have a question?
Downloads
Brochures
Related products
Van Rijn has decades of experience in transporting a wide range of products. Are you interested in more transport solutions? Take a look at our products down below!
Seals automatically and efficiently buckets of all sizes
Adjustable for every size and shape lids
Automatic lid pressing for a more efficient filling process