Van Rijn bucket sealer
Bucket sealers are designed to help speed up the production process. In addition to that, the sealing of the product vastly increases the shelf life.
Widely applicable
The bucket sealer is suited for closing buckets of a maximum of 320 X 320 mm, and a height difference of maximum 225 mm. The buckets can be automatically transported to the sealer by an existing system, or put on the machine by hand.
An extra feature is fumigation. This can be done with both steam and gas. By using fumigation, shelf life is extended even more.
For maximum hygiene, the gas tube is attached to the side of the bucket sealer. The bucket sealer comes with a base plate and a stainless steel table frame. It can be delivered as a table model, on a moveable frame, with a transportation system or with a complete production line.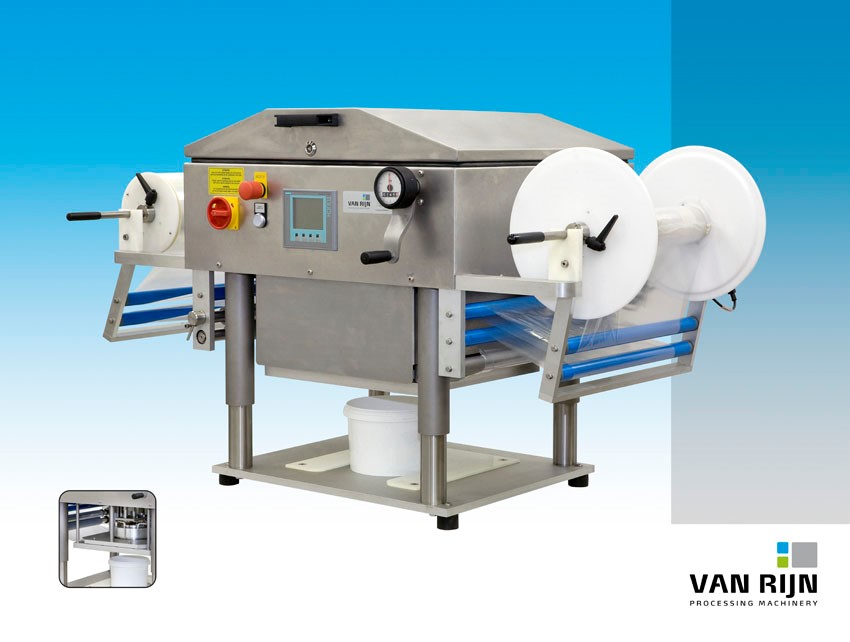 Air- and electricity connections
Connection voltage: 380V – 3 phase, including 3 meter long connection cable and socket with earth ground. Optionally, a 230V-1 phase machine is possible. Air connection: 6 bar clean dry air, including air conditioning unit with air pressure regulator and water seperator.
Product attributes
Ensures the bucket is properly sealed
More efficient than sealing by hand
Fumigation inside of the bucket possible
Available as a stand-alone machine or part of a machine line
Need advice or do you have a question?
Downloads
Brochures
Related products
Van Rijn has decades of experience in transporting a wide range of products. Are you interested in more transport solutions? Take a look at our products down below!
A system to accurately dose every type of liquid
Adjustable for every size and shape lids
Automatic lid pressing for a more efficient filling process